Did Donald Trump Just Accidentally Admit Global Warming Is Real?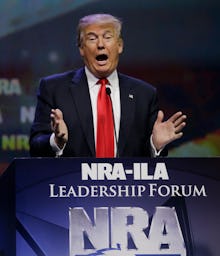 Presumptive Republican presidential nominee Donald Trump has some explaining to do.
On one hand, he says climate change is "bullshit" and that global warming was "created by and for the Chinese." 
But according to Politico, Trump is worried rising sea levels will put one of his golf courses underwater.
Trump International Golf Links and Hotel Ireland applied for a permit to build a seawall, a 2-mile stretch of 200,000 tons of rock, to protect a seaside golf course in Ireland, citing coastal erosion rates as the reason to bolster his property's coastline defenses.
A statement from the company reads: 
"If the predictions of an increase in sea level rise as a result of global warming prove correct, however, it is likely that there will be a corresponding increase in coastal erosion rates not just in Doughmore Bay but around much of the coastline of Ireland. In our view, it could reasonably be expected that the rate of sea level rise might become twice of that presently occurring."
South Carolina Rep. Bob Inglis, a Republican, called Trump's move "diabolical," according to Politico: "Donald Trump is working to ensure his at-risk properties and his company is trying to figure out how to deal with sea level rise. Meanwhile, he's saying things to audiences that he must know are not true."
Inglis added, "You have a soft place in your heart for people who are honestly ignorant. But people who are deceitful, that's a different thing."
It's hardly reassuring to know that the man who could be our next president will crassly deny climate change as a political platform but quietly spend money to protect his private investment from its effects. Sad.