'The Bachelorette' Season 12 Premiere Recap: JoJo and the Men Share 3 Cringeworthy Moments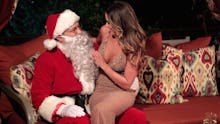 The latest season of The Bachelorette premiered Monday, with 25-year-old JoJo Fletcher surveying an ample landscape of men vying for her heart. The season 12 premiere comes at a time the show faces pressure to escape accusations of sexism and idiocy that dogged its last season — Monday's episode suggests that the label will likely stick for some time.  
Here are three cringeworthy moments from The Bachelorette season 12 premiere that prove it's more of the same nonsense in JoJo's queendom. 
Read more: 'The Bachelorette' With JoJo Fletcher Is Premiering This Week — Here's Why You Should Care
1. Half Scottish below the waist guy
Almost from the get-go, things got awkward when John, a 29-year-old technical sales representative, appeared and introduced himself to Fletcher, wearing a kilt and "not wearing any panties." John, who said he was half Scottish and half Chinese assured the bachelorette that he was "half Scottish below the waist."  
2. Awkward Santa guy
As everyone always knows, the secret weapon of love is dressing like Santa Claus — right? That's at least what Nick B. thought would be a good idea, coming bedecked in a full St. Nick getup. Get it. Nick B — Saint Nick?
But it really wasn't very funny and in fact led to a number of awkward moments including a bizarre Santa's lap tet-a-tet (see image above).
3. Damn Daniel Guy
Perhaps looking to top Santa or the Scottish penis guy, Daniel introduced himself with a riff on the popular "Damn, Daniel" meme. The year's most idiotic viral hit was apparently lost on JoJo, leading to an awkward explainer from the presumptive suitor — it didn't go over well.