Jessica Williams Sums Up Why You Should Never Touch a Woman Without Her Permission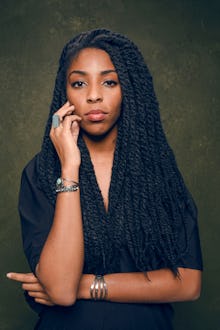 Daily Show correspondent Jessica Williams wants to make one thing clear: it's never OK for a man to touch a woman he doesn't know without her permission, regardless of who he is. 
This Sunday, while on a Vulture Festival panel with podcast co-host Phoebe Robinson of the WNYC podcast 2 Dope Queens, Williams shared a personal story of a hunky actor who got a little too hands-on: 
"Yesterday, I was doing the red carpet for [media awards ceremony] the Peabodys so I was doing interviews," Williams said, according to The Cut, "and all of the sudden, this guy, this popular actor comes up behind me and just grabs me and just pulls me in towards him. I was literally talking to somebody, and was like, 'What? What is happening?' And he was like, 'Yeah, girl. You fine'... If I was at a fucking bodega in Harlem and this happened to me, I would literally stab you. But because he's a great actor, everybody's, 'Haha, that's funny, right? Good one, you got touched.'"
It's no surprise that the woman who slammed street harassers in a Daily Show sketch and mocked strangers who ask to touch her hair would also loathe a stranger's creepy hug. But Williams isn't unique in wishing that men would stop invading her personal space. 
Unwelcome touching from strangers is a common form of sexual harassment that women face. Women are often subject to "surprise" hugs or back massages, which are often cited in workplace sexual harassment lawsuits. 
So here's a word of advice to all the men out there that like to give hands-on attention: If you don't know the woman, it doesn't matter how rich and famous you are, keep your hands to yourself. Even if you do know her, make sure she actually wants that hug — or you just might find yourself getting stabbed in a Harlem bodega (or just yelled at, either one).