Anne Hathaway Just Retracted a Post on the Kardashians for "Unintended Shade Thrown"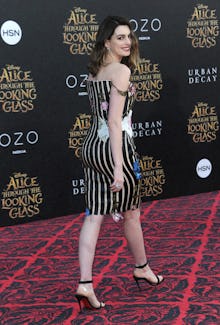 Apparently, Anne Hathaway made a snarky reference to the Kardashian family on Instagram Monday, but most of the world will never know, because she quickly removed it. 
The posted meme read, "In a world of Kardashians... be a Helena Bonham Carter" below a picture of Hathaway's Alice in Wonderland: Through the Looking Glass co-star. Hours later, feeling there was some shade baked into that post, Hathaway ran a retraction.
"Post removed for unintended shade thrown," said the new image, under which the actress wrote, "It never occurred to me I was pitting anyone against each other. Not my style. Peace x." 
Hathaway's Instagram style errs toward the respectful-if-occasionally-perplexing. A few days after Beyoncé's Lemonade dropped, the Princess Diaries star posted a decidedly odd tribute to the singer, bowing both her head and her hand — on which a B was drawn — in an apparent expression of awe and admiration. If nothing else, her "style" is reverent, even overly polite. 
There's no word on whether or not the Kardashians even noticed Hathaway's gaffe. Their Instagram accounts would suggest that they were otherwise occupied with things like listening to the music of the earth.
No harm, no foul, no celebs pitted against celebs in what could have been a bizarre social media war. Womp womp.