20 Years Ago, Hip-Hop Had Arguably Its Best Summer Ever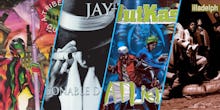 Every genre has its watershed year. For jazz, it was 1959, the year Miles Davis refined every jazz convention to perfection with Kind of Blue, only to have Ornette Coleman shatter them with The Shape of Jazz to Come. For rock, it was 1967, the so-called "Summer of Love" when the Beatles dropped Sgt. Pepper's Lonely Hearts Club Band and Jimi Hendrix debuted with Are You Experienced? 
For hip-hop, its game-changing year was 1996.
That summer was especially revolutionary for hip-hop. Love was hardly its defining quality, but the diversity of today's hip-hop — a phrase that describes Young Thug as well as it does Shabazz Palaces, Chance the Rapper or Nicki Minaj — can be traced back to 1996.
Read more: 20 Years Ago, Lauryn Hill and the Fugees Changed the Future of Hip-hop with 'The Score'
"What you see is this range; you start to see different kinds of sounds, different kinds of styles ... different parts of the country," Alan Light, former editor-in-chief of Vibe, said of 1996 in an interview with Complex. "You started to have New Orleans; you started to have Atlanta. You still had the last stand of the Native Tongues; you had De La Soul put out Stakes Is High, you had A Tribe Called Quest put out Beats, Rhymes and Life. You're looking at a moment where a lot of things are evolving very fast."
In 1996, some of hip-hop's greatest visionaries including Jay Z, Busta Rhymes and the Fugees stepped to the stage, while another genius took his final bow. These are some of the albums that defined that summer and forever changed hip-hop history.
Heading into summer with The Fugees
The Fugees' groundbreaking The Score — the album that helped remind hip-hop of its Caribbean roots and introduced the world to the tragic genius of Lauryn Hill — dropped in February 1996. Yet The Score's biggest single, "Killing Me Softly," didn't come until May, and its reverberations were felt throughout the summer. 
"It sounded like a feel-good hip hop record to us, and it was different than what anyone was doing at the time," Wyclef Jean once said of the recording the album, according to HotNewHipHop. It holds up today, listening like a how-to-win manual for any optimistic, politically-minded artist looking to make sure their screeds can still knock at a block party.
Jay Z steps on the scene with Reasonable Doubt.
1996 was the year hip-hop met its soon-to-be king: Brooklyn's finest, Jay Z. It didn't immediately launch him into rap's chart-topping aristocracy, but the album's mix of acrobatic flows and brutally narrated crime stories is still considered one of the the MC's greatest achievements. Jay Z himself certainly thinks so. 
It's harder to image a better place for him to begin to build his empire, which would went on to redefine not just hip-hop's musicality, but also the way artists handle the business side of hip-hop.
De La Soul evolves from hippies to street prophets.
De La Soul could take anything and turn it into hip-hop — Disney sing-a-longs, obscure "learn-it-yourself" French records. It earned them reputations as goofballs at worst, hippies at best. On their fourth album, they made their second attempt to kill the group's hippie vibe, following 1991's De La Soul Is Dead, turning their attention away from tie-dyed and the cosmic and towards the streets. 
Stakes Is High mocked cheap sound of radio hip-hop and gangsta posturing with a wagging finger, eventually earning itself a diss from Tupac himself. While it sold poorly, it proved De La Soul could pitch their voice to match the changing times, something they're still working at today.
A Tribe Called Quest explore evil on Beats, Rhymes and Life.
The "last stand of the Native Tongues," as Light phrased for Complex, Beats, Rhymes and Life also helped introduce James Dewitt Yancey, better known as J Dilla, to hip-hop. He helped breathe new life into A Tribe Called Quest's jazz — before going onto to becoming one of the most innovative and respected producers of all time. 
The album attempted to bring the brewing East Coast-West Coast rivalry — which would turn deadly later in 1996 — to the table for peace talks. "Yeah, we from the East, the land of originators," Q-Tip raps on "Keep it Movin.'" "You also from the West, the land of innovators/ The only difference of the two is the style of the rap/ Plus the musical track, this beef shit is so whack." It wasn't enough, but it helped plant one of the cornerstones for the "conscious rap" movement.
Outkast gets weird and puts Atlanta on the map with ATLliens.
At the beginning of their career, Outkast were truly outcasts. In 1995, they were nearly booed off the stage at the Source awards, when André 3000 proclaimed "The South got something to say!" ATLiens, the group's second album, backed those words up in a big way. It showed Andre 3000 and Big Boi moving into truly virgin territory — a fresh mixture of funk, gospel and dub, buoying dense double-time flows. Songs like "Elevators" and "13th Floor / Growing Old" allowed André 3000 to show off his conceptual depth, moving him closer towards becoming one of the most influential MCs of all time.
The Roots leave the jazz behind with Illadelph Halflife.
The Roots' backstory is a bit of a tragic catch-22. They pioneered live instrumentation in '90s hip-hop, but they did it so well that very few others hip-hop musicians have attempted to ride in their wake. Illadelph Halflife, the group's third album, saw the group experimenting with sampling to a much greater degree. 
On the album, Black Thought's lyrics turned from off-the-cuff cypher wordplay to deeper, more incisive scrutinies of street culture — deep enough to earn a 4.5 out of 5 from The Source, the leading hip-hop magazine of the era.
The shot heard around the world
Hip-hop's summer of love ended sharply on September 7, 1996, when Tupac was shot on the streets of Las Vegas following a Mike Tyson fight. It began the dramatic third act of the East Coast vs. West Coast rivalry, which would end in large part when the East Coast lost its own icon, the Notorious B.I.G. the following March. Nas himself thought it would be the end of rap as we know it — and in a certain way, it was.
The culture rethought the way it glorified gangsterism. It inspired a race for the newly opened thrones, spurring the growth of new labels and artists, towing new styles and flows. The genre was forced to diversify. If it never had, it's possible it might never have achieved the global domination it enjoys today.