Lego Sets Now Contain Significantly More Toy Weapons Than Ever Before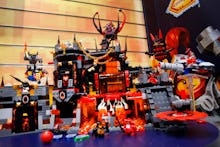 Laid side by side, the amount of Legos sold per year could wrap around the world more than five times. And each year, these little plastic bricks get more violent. 
The number of toy weapons in Lego sets has increased by 30% from 1978 to 2014 according to a Plos One study, Quartz reported. Lego toy weapons include bricks shaped like swords, guns and cannons. 
The study, conducted by researchers at New Zealand's University of Canterbury, also points out that today, nearly 30% of Lego sets come with at least one toy weapon.
"The Lego company often claimed that their violence normally happens within a humorous context, yet the results show that 'humorous' is the least likely atmosphere," the study says.
It's true that Lego aims to sprinkle humor into its products in an effort to mitigate the portrayal of violence. 
"As with other play types, conflict play is a natural part of a child's development," Lego spokesman Troy Taylor told the Guardian. "We always try and use humor where possible as it helps tone down the level of conflict."
The researchers attribute this rise in violent toys to a "metaphorical arms race" among toy manufacturers.
"Creators and producers of games and movies strive to push the limits of what violent media is allowed to be released to prevent their audience from getting bored of similar content," the study says. 
The same can be said of other toy manufacturers, and as the researchers note in the study, it's likely not just Lego bricks that are becoming increasingly violent.
Mic has reached out to Lego for comment and will update with any response.