This Inspirational Graduation Photo Embodies True #RelationshipGoals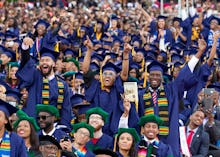 The Class of 2016 has had its fair share of inspirational stories. This one will surely make you say, "relationship goals."
Marteze and Shauna Ford, a married couple from Alabama, shared their dreams with one another nearly a decade ago. Shauna Ford had aspirations of becoming a pharmacist, while Marteze Ford wanted to become a lawyer. 
"When my wife and I met almost 10 years ago, we shared our biggest DREAMS with each other. She wanted to become a Pharmacist and I, a lawyer," Marteze wrote on Instagram. 
Years later, their dreams would come true.
Shauna graduated from the McWhorter School of Pharmacy at Samford University in Birmingham, Alabama, in 2013, earning her doctorate's degree in pharmacy. Marteze fulfilled his promise to his wife Saturday, receiving his Juris Doctor from Birmingham School of Law.
"Life was detouring us both from our dreams but God led us to each other to make our dreams VISIONS, then our visions REALITY," Marteze wrote on Instagram. "We stepped out on FAITH and started working towards our visions TOGETHER!" 
Black mothers graduating alongside their children melted our hearts. A high school valedictorian was accepted to 39 colleges and universities and earned over $2 million in scholarships. A 67-year-old former drug dealer graduated from Columbia University, an Ivy League institution, proving that it is never too late to go to college. The Class of 2016 has surely been one for the books.
Read more: These Photos of Black Moms Graduating in the Class of 2016 Will Melt Your Heart