The Senate Unanimously Passed a Sexual Assault Survivors' Bill of Rights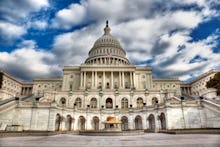 The United States Senate finally found something they can agree on: the guarantee of basic rights for sexual assault survivors. On Monday night, the Senate unanimously voted in favor of the Sexual Assault Survivors' Rights Act, Refinery29 reported. 
Amanda Nguyen, a 24-year-old activist-slash-aspiring-astronaut, partnered with New Hampshire Sen. Jeanne Shaheen to push the legislation in February. Herself a survivor of sexual assault, Nguyen and her civil rights nonprofit, Rise, are advocating for the legislation in hopes that it will fix the country's legal infrastructure, which, in the attempt to achieve justice, often punishes the victim.
"The hardest part [of discerning her rights as a survivor] was realizing that the system meant to protect and deliver justice is broken," Nguyen told the New York Times. "Navigating the broken system was worse than the rape itself. ... The deck is stacked so high against survivors."
But according to Nguyen, the Sexual Assault Survivor Bill of Rights "will change that." The bill would create a federal standard with the hope that all 50 states will follow suit in implementing similar policies. Currently, laws surrounding assault vary across states. 
As New York magazine reported, Nguyen and Shaheen's bill pays special attention to the way rape kits are handled, stipulating they must be preserved until the statute of limitations on the case runs out. If and when a kit is destroyed, the prosecutor must notify the survivor in writing 60 days in advance. That way, survivors can request to put off the kit's expiration date. 
Notably, survivors would be granted the right to be informed of the rape kit's results. It would also be illegal to charge a person for a kit.
"The system failed Amanda, and so many other survivors across the country, but Congress can begin to reform it," Shaheen wrote in an April 29 Medium post. Rise's Change.org petition urging Congress to pass the bill has garnered over 100,000 signatures and will now move to a vote in the House of Representatives.
Read more: Ask This Student How Her College Is Protecting Her Rapist