How to Open a Bottle of Wine with a Bicycle Pump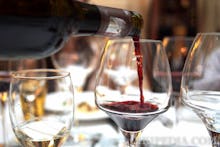 Feeling thirsty but not a corkscrew in sight? Exhale. All you need is a bicycle pump to masterfully open a bottle of wine.
In just a few simple steps, that bike pump will uncork your vino with ease, as YouTuber Matthew J Nemer demonstrates in his artful how-to short.
Step 1: Insert the pump needle between the cork and the rim of the wine bottle.
Step 2: Give the apparatus about three to four pumps (any more may cause the bottle to explode!). 
Step 3: Gently remove the cork from the bottle. (Brave folks may use their teeth, but the method is not entirely recommended. Consider wrapping a kitchen towel around the cork and neck of the bottle and then pulling the cork instead.)
Step 4: Drink up. Whether you're holing up for an epic evening of The Bachelorette or doing fancy things with cheese and chocolate, the world is your oyster.