Twitter Admitted It Needs to Update Harassment Tools, Instead Lets Us Retweet Ourselves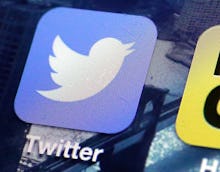 Twitter has admitted it "sucks" at dealing with online harassment, but instead of improving its tools for dealing with online attacks, it just gave us the ability to have longer tweets.
More characters to harass you with, my dear. 
Twitter announced in a blog post on Tuesday that it will help users deal with the agony of "penny-pinching your words" — no longer will we have to decide which "your" turns to "ur" or stare into the ugly face of a period before a username so you can broadcast your hilarious rebuttal to the Twittersphere. And you can retweet yourself, you know, in case "a really good one went unnoticed." 
But the issue here isn't that your Twitter feed is going to be inundated with even longer tweets — it's that this is arguably an unimportant change among the issues Twitter needs to address. Like harassment. 
A Twitter spokesperson provided the following statement in an email:
Our rules and reporting procedures are designed to allow our users to create and share a wide variety of content in an environment that is safe and secure for our users,. When content is reported to us that violates our rules, which include a ban on violent threats and targeted abuse, we suspend those accounts. We evaluate and refine our policies based on input from users, while working with outside safety organizations to ensure that we have industry best practices in place.
Last year, nonprofit gender advocacy group Women, Action and the Media collaborated with Twitter to address online harassment. WAM found that for 67% of people who reported harassment, it wasn't their first time, Fast Company reported in May 2015.
The team dedicated to changing how many characters you can use on Twitter is obviously not the same team that's handling abuse, but it's still surprising that so few changes have been made to the social media platform's treatment of harassment over the years. 
The most significant change Twitter has made in recent months is that users can now report up to five harassing tweets at once. 
Users asked for better protection from harassment; they even gave Twitter some ideas for how to implement them. So rather than give us hearts and longer tweets, how about better harassment tools first? 
In the meantime, you can retweet your pleas for assistance dealing with threats and harassment, you know, in case the good ones went unnoticed.