This Gay Reporter Received a Homophobic Email From a Viewer and Responded in the Best Way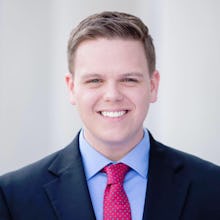 Mitchell McCoy, an out gay reporter for KARK 4 News and Fox 16 News in Arkansas, received a homophobic email from a hateful viewer. 
Rather than responding to the viewer's ignorance with anger, he clapped back in the classiest way. McCoy posted a screenshot of the email to Twitter on Monday, in which he concealed the sender's identity. 
"I can't stand your gayness," the missive said. 
"You are on television every night and our children should not be watching people like you," the sender wrote. "You are a disgrace to Arkansas and I will be asking your boss to take you off."
"Do not be offended," the person concluded, "but society is not ready for gay men reading the news."
McCoy made it clear he wouldn't be going anywhere. "I've dreamt of being a reporter since I was 9 and I won't stop on your behalf," he tweeted.
And — probably much to the anonymous viewer's chagrin — KARK news director Austin Kellerman is firmly in McCoy's camp:
"As public figures, our journalists often receive messages from viewers — some good, some bad," Kellerman told Arkansas Democrat-Gazette via email. "It's part of our profession. Mitch is a great journalist, and we're happy to have him on our team."
McCoy encouraged others who are bullied or trolled to not be discouraged when faced with hate or obstacles. 
"No matter who you are or what you believe in, dream loudly and don't let anyone get in your way," the reporter added. "The minute you stop is the minute you stop being who you are. It's not worth it."
Read more: This Woman's Body Shaming Clapback Written on Her Chin Lit Up the Internet