This Teacher Inspired Her Students to Love Themselves With This Empowering Song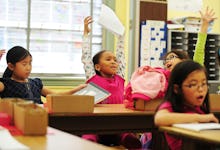 Want to cry some happy tears today? Check out this viral video from Chicago teacher, mentor and poet Kendria Harris, who inspires her young students with the best song ever.
In a video uploaded to Facebook on May 12, Harris, who also goes by the name K Love, practices her call-and-response affirmation song with a group of young girls. "I love myself," each one starts off, to which everyone else responds "She loves herself."
"I mean every single thing / She means every single thing, from the color of my skin/ from the color of her skin/ to my soul energy/ to her soul energy." And then adorable dancing ensues.
The song is "an affirmation chant I developed to help deprogram little girls from the negative ideas that mainstream media subliminally fills them with," Harris explained in a video description on her YouTube channel in August 2015. "The first group I did it with was a group of beautiful little girls from Hughes Elementary School on the South Side of Chicago."
Since the video was uploaded to Facebook, it's gotten thousands of likes and been shared more than 35,000 times.