Former Seattle-Area Official Cries Reverse Racism Amid Backlash for Muslim Database Idea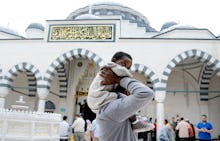 Former city manager James "Donny" Payne of SeaTac, a city in Washington near Seattle and Tacoma, wanted to create a mapping database of Muslims after a few weeks into his interim role, according to a report published in the Seattle Times on Monday.
After an investigation was completed, it was reportedly determined that Payne — an Army major for the Washington National Guard — received backlash for his request to gain access to intrinsic details of "Sunni and Shiite Muslim residents" living in SeaTac with "data-driven asset allocation" of "the neighborhood, house, and even person" in a map.
"I was trying to provide good governance to a diverse population," Payne told the Seattle Times. "And this is what is so outrageous to me: Because it was a white male asking for this information, suddenly people jumped to the conclusion that I must be out to get certain people. I'm deeply offended by that."
Here are several other key findings from the investigation report:
1. Payne reportedly requested the city's geographic information services coordinator to make a "tactical map" using data compiled by the U.S. Census.
2. He reportedly wanted a mapping database of Muslims, because he believe there's the off-chance where he may have to pay a visit to the Muslim community in order to "make the peace" between Sunni and Shiite Muslims.
3. He allegedly spoke to a former employee about creating an "Americanization" or assimilation outreach program  — that never went into effect — exclusively for African Muslim immigrants and refugees, since Payne believed Latinos assimilated better. 
4. He reportedly justified his proposal by citing that federal task force and outreach programs, such as the Countering Violent Extremism summit and plan hosted by the White House, already exists.
5. When talking to SeaTac's police chief, he reportedly mentioned concerns about the Ferguson protests, attacks in Brussels, Belgium, "radicalized" Muslims, and the Eritrean and Somali community. 
6. He was allegedly obsessed and concentrated on the possibility of social and civil unrest in SeaTac, and asked the police chief to support a reversal on an at-work firearms ban for employees. 
Some of the ideas and proposals Payne has reportedly made isn't really new to the greater Muslim American community. For example, Countering Violent Extremism, commonly referred to as #CVE, is known to be a nationwide controversial outreach program known for casting nearly exclusive blanket scrutiny and surveillance — with collaboration by the FBI, CIA and Department of Homeland Security — on the Muslim American community, according to Muslim leaders who spoke to the Wall Street Journal.
Here's how Twitter responded:
After hearing about the findings in the investigation, several Muslim American community members in the Seattle greater metropolitan area expressed grave concerns about their own rights as American citizens and residents — especially with presumptive Republican presidential candidate Donald Trump who has also proposed a Muslim database.
Darakshan Raja, co-founder of the Muslim American Women's Policy Forum, said city officials like Payne suggesting a mapping database is not a new phenomenon, but rather a reality check of what the greater Muslim American community has to deal with. 
"What [Payne] proposed has already been carried out and Muslim communities have a long history of being mapped as threats, which has harmful consequences for communities," Raja told Mic in an email.
"Under the guise of national security, our communities are consistently surveilled, targeted and criminalized," Raja added. "The impact of these programs has been the disappearance of community members, targeting of community leaders, the community infrastructure, fear of associating with the Muslim community as Muslims and the deep psychological harm Muslim communities are living with."
Mohsen Khalil, a 26-year-old Egyptian American currently residing in Seattle, told Mic her fears of living as a Muslim after September 11. 
"September 11 has never ended in the U.S.," Khalil said. "Even in a liberal and progressive areas like Seattle, or SeaTac — where many Muslims live — we still see the nasty ramifications of bias against Muslims like this [mapping database proposal]. This is incredibly dangerous for all Muslims and those who are perceived to be Muslim."