These Teenage Boys Are Collecting Free Tampons to Distribute at Their High School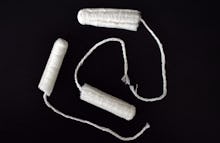 It's not every day we hear good news about a group of high school boys and the way they treat young women. But this tale about a group of students at James Hillhouse High School in New Haven, Connecticut, fills our hearts with pride.
Teenage boys at the school are fundraising to provide free feminine products for their classmates. They're founding members of the Kiyama Movement, a group that promotes self-improvement among African-American men and mutual respect across genders. 
"This is an opportunity for us as young men to help diminish the inequality gap between males and females," Kiyama student leader Samithasen Hubbard told the New Haven Register. "I take pride in what we are doing." 
Michael Jefferson, a teacher and a founder of the Kiyama Movement, said in a phone call that the students were inspired to launch this project after reading an article about how common it is for women to unexpectedly start their periods in a public place. 
"It resonated with [them] and now they are trying to do something about it on a local level," Jefferson said. "From marketing to stock management, every one of the students has a role." Now there are more than 15 male students working to make sure their fellow classmates have access to tampons and pads at school.
"This is an opportunity for us as young men to help diminish the inequality gap." 
New York activist Jennifer Weiss-Wolf has seen firsthand how access to free menstrual products can have a positive impact for students. Although the impact of periods on student performance hasn't been studied much in the United States, she said in a phone interview that young women in focus groups she participated in with students across New York City reported they're not able to focus when they lack access to menstrual products. 
"For a 13- or 14-year-old girl who is new to the experience of menstruation, it can be so much more than a distraction," Weiss-Wolf said. "It can keep them from being fully engaged and participating in school." Indeed, many of the girls talked openly about their parents' financial struggle to provide them with pads and tampons. 
Weiss-Wolf believes the lack of free products at public schools creates a great barrier for low-income students, and that free menstrual products should be provided just like toilet paper, or lunch tickets for low-income students. 
"[Tampons and pads] are essential school supplies," she said in a phone interview. 
These proactive teens aren't the first male high schoolers to crusade on their female classmates' behalf.
Earlier this spring, college student Chance Ward wrote a viral Facebook post about carrying tampons in case he comes across a woman who needs them. 
"Y'all know literally like half this world goes through this?" Ward wrote. "I keep some in my fanny pack when I go to the gym, and some in my backpack all the time. Never feel embarrassed for asking for one. Never feel embarrassed for being human." 
Last year in Miami, student Jose Garcia experienced his 15 minutes of internet stardom when social media posts about his habit of carrying emergency pads to school for his female friends went viral. 
"My inspiration didn't come from one source only, but just from day to day things that have happened around me, like a friend staining her pants or feeling uncomfortable to ask for a sweater to tie around their waist because their pants are stained," Garcia told The Daily Dot. "I also believe that asking for a pad or a tampon shouldn't be such a taboo thing to boys."