Kim Kardashian, Chrissy Teigen to Reportedly Star in Fergie's New Music Video "MILF Money"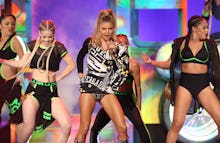 Fergie may have recruited an all-star mom cast for her new music video "MILF Money."
Yes. "MILF Money." Like milk money — with less milk and more "mothers [someone would ostensibly] like to fuck."
Reports say the song will be featured on the mother-of-one's upcoming sophomore solo album, Double Dutchess, the follow-up to 2006's The Dutchess.
Breathe Heavy reported a cameraman told the website that Kim Kardashian West, Chrissy Teigen and Ciara met the singer on a set in Los Angeles earlier this month.
Kardashian West's and Teigen's musician husbands — Kanye West and John Legend, respectively — were also said to have been on set, but it's not clear whether they participated in the shoot, according to Breathe Heavy.
"Right now I'm focused on my solo album, getting it finished, [and] getting it out," she told Entertainment Weekly Canada in October. And on Friday, the singer debuted three new songs presumed to be off the new album onstage at the Rock in Rio Lisboa Festival in Lisbon.
That same day, F teased 60 seconds of a new song on Instagram.
Fergie gave birth to her son, Axl Jack Duhamel, in August 2013.
Read more: The Black Eyed Peas Are One of Music's Greatest Tragedies