Muslim Women Gracefully Clapped Back at a Racist Troll Harassing Them at an Ice Cream Shop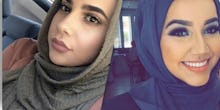 Two Muslim American women wearing hijabs gracefully shut down a bigot harassing them inside a California ice cream shop, a video uploaded to social media Monday showed.
The women, 21-year-old Malaak Ammari and 22-year-old Nura, were at Andrew's Ice Cream in Orange, California, with another friend, when another customer began berating them.
In a phone interview, Ammari said they at first paid little attention to the man, and only realized they were the target of his vitriol when the woman behind the counter escorted him out and began apologizing to them. 
"We're just three Muslim girls," Ammari said. "We didn't know what to do, we didn't want to add more gas to the fire. It was already bad enough."
Ammari pulled out her phone and started recording when the man came back, accusing the staff of being rude to him. "You won't serve me, but you serve them," the man argued, according to Ammari, while pointing at their table.
In the 20-second clip Nura uploaded to Twitter, an employee of the shop can be heard escorting the man out of the shop while saying, "If you can't be nice, we don't want you." 
As the man made his way out, he said, "I don't want them here in my country," pointing to the women's table.
"Too bad, we're here," Nura, who is in the video calmly eating her ice cream, replied. "Sucks for you!" 
The man seemed to threaten the women, saying, "Too bad for me? You'll see what happens."
"You're racist! And this is on tape!" Ammari replies mockingly as the apparent Islamophobe exits the ice cream shop. 
Ammari said another video, which was not uploaded to social media, showed the man come back and up to the window in an attempt to menace them, but that they all just laughed at him. 
After posting the video on Twitter, the women have received messages of support, while graciously brushing off the cyber haters.
Ammari said that while the situation was upsetting, "it's good to know people will stand up for you."
"No matter what race someone is, if you're a true American, you'll stand up for anyone if they're being treated unfairly," she added.
Continue to slay, queens.
Mic has reached out to @itsdatnunu and will update when we hear back.
Correction: May 24, 2016