Powerful Poem Exposes How Rape Culture Defines College for Women — Before They Even Start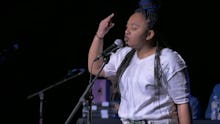 Colleges are supposed to be educational safe havens.
But at least 1 in 4 female college seniors experience sexual assault during college.
Soon-to-be high school graduate and poet Ave' Zakai Taylor-Kelley, 17, is about to start her college experience as a freshman at College of the Holy Cross in the fall. 
But instead of being excited to begin her studies and meet new people, she's afraid of being raped.
She conveyed that fear in a dramatic performance called "What Colleges Hide," a poem she shared at the Louder Than a Bomb slam poetry finals in Massachusetts in May.
Here are eight powerful moments:
Watch the full performance below: