Bernie Sanders Requests Recanvass of Kentucky Primary — Over One Delegate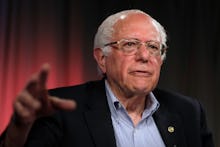 Bernie Sanders' presidential campaign requested a recanvass of the May 17 Kentucky Democratic primary results, the Associated Press reported Tuesday, asking Kentucky election officials to review the state's primary results in which the Vermont senator apparently lost to Hillary Clinton by less than one half of 1%.
Clinton's 1,924-vote victory in Kentucky allowed her to garner one more pledged delegate than Sanders, bringing her total pledged delegate lead to 274 — a nearly insurmountable hurdle as the primary contest enters the final stage.
Clinton's delegate lead would make an unlikely flip of the Kentucky primary into Sanders' column a moral victory, rather than a game-changing one.
Read More: Bernie Sanders Warns of "Messy" Democratic Convention
"He's in this until every last vote is counted and he's fighting for every last delegate," Sanders spokesman Michael Briggs told the Associated Press.
Kentucky Secretary of State Alison Lundergan Grimes, a Clinton backer, tweeted Sanders' letter requesting a recanvass.
A recanvass merely requires election officials to add up the reported results from across the state, rather than recount each ballot.
Sanders' campaign could also request a recount of the results, in which each ballot is recounted. But that would come with a hefty price tag for his campaign, which would be responsible for shouldering the costs.