Bill Cosby Will Face Trial for 2004 Sexual Assault Charges, Judge Orders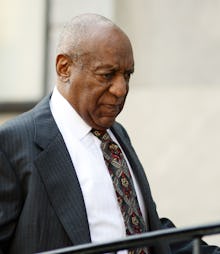 The Associated Press has reported that Bill Cosby will stand trial for sexual assault charges from an alleged incident in 2004. 
On Tuesday, a judge in Montgomery County, Pennsylvania, deemed there was sufficient evidence presented during a pretrial hearing to continue to a trial. 
Andrea Constand, who used to coach basketball at Cosby's alma mater, Temple University, accused him of having drugged and raped her, Reuters reported. Twelve years later, he is now being charged with three counts of felony indecent assault.
According to transcripts from a police interview in 2005, which was read during the pretrial Tuesday, Constand said Cosby drugged her and she remained "paralyzed" on his couch while he had intercourse with her. 
Constand is the only woman to bring criminal charges against the entertainer who, due to statutes of limitations, has been largely immune to criminal charges from the dozens of women who have recently come forward and accused him of sexual assault.
More than 50 women have alleged Cosby sexually assaulted them — in some cases repeatedly. The story reached fever pitch in July when New York Magazine published portraits of 35 women who had publicly accused the 78-year-old of sexually assaulting them. 
This story is breaking and will be updated.