Amy Schumer Claps Back at Internet Trolls Mocking Her for Bathing Suit Photo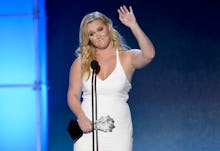 Comedian Amy Schumer is not one to take body shaming lightly.
When it comes to the unfair beauty standards placed on celebrities, especially female celebrities, Schumer makes no apologies for her bodacious self: "This is how I look."
The sketch-show queen wasn't having any of it on Tuesday after a paparazzi shot of her in a bathing suit on vacation made the rounds on the internet, sparking an onslaught of negative comments.
"I meant to write 'good morning trolls!'" Schumer captioned an Instagram post of the paparazzi shot.
"I hope you find some joy in your lives today in a human interaction and not just in writing unkind things to a stranger you've never met who triggers something in you that makes you feel powerless and alone. This is how I look. I feel happy. I think I look strong and healthy and also like Miss Trunchbull from Matilda. Kisses!"
The post makes it clear that Schumer is sick of dealing with strangers sharing their unsolicited opinions about her body — and plenty of her fans had her back.
Of course, some people totally missed the memo.
Can you believe those entitled celebrities?! Getting upset when strangers they've never met insult them from behind a computer screen? Geez, the nerve.
Read more: This 'Inside Amy Schumer' Sketch Nails What's Wrong With Women's Health in America