This Lady Is Running Around New York In a Vagina Costume For the Best Possible Reason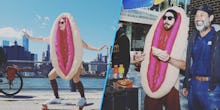 Vagactivism — a term I just made up to describe a delightful form of activism that champions women's rights by de-stigmatizing and celebrating the vagina — is having a major moment as of late. In the past year alone, vagactivist projects have ranged from sassy drawings of anthropomorphized vaginas to purses with vulvas on them to an Instagram account of yonic imagery called "look at this pussy."
Obviously, it was only a matter of time before someone finally said, "Hey, you know what? We should just create a human-sized vagina suit and call it a day."
And now that time has come! Welcome to Conceived in Brooklyn, a site run by "an awesome Brooklyn couple selling vagina costumes to draw attention to women's reproductive rights," says Cosmopolitan.
"We'll agree, a vagina costume can provoke an uncomfortable response," the anonymous married duo writes on their website (we have reached out for comment and will update if we hear back). "Our intent is to draw attention to a topic that many people aren't aware of."
The costumes are available for purchase at $149, with $10 from each sale going to 50 Cents.Period., a charity organization whose stated mission is "to empower women and girls in marginalized and vulnerable communities, by partnering with them to create programs and pathways that ensure equitable access to resources and services targeting their mental and reproductive health needs."
This is obviously not the first-ever vagina suit. Dressing up as a vagina for Halloween is apparently a thing — although it's worth noting that most existing costumes on the market, like "The Big Pink" (lol) from FantasyToyland.com, seem to be more like gag gifts than actual statements of vagactivism.
So now that there is an official vagactivist uniform, what's the next frontier for the movement? That's anyone's guess, really, although fasting for three weeks in honor of the vagina sounds like a pretty great idea.