Jay Z References Beyoncé's 'Lemonade' With Verses on "All the Way Up" Remix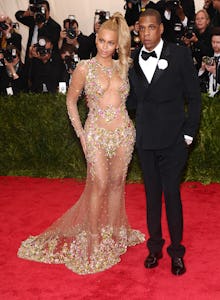 When he performs well in the bedroom, he's escorted to Red Lobster, and when he purportedly cheats on his wife, he'll hear about it on an acclaimed album. Now, Jay Z has finally responded to Beyoncé's Lemonade, laying out a couple of verses on Fat Joe's new "All the Way Up" remix. 
On the track, released exclusively on Jay Z's music streaming service Tidal, the rapper wastes no time talking about his wife's most recent record, which details a woman (Beyoncé, perhaps?) dealing with an unfaithful husband. "You know you made it when the fact/Your marriage made it is worth millions/ Lemonade is a popular drink and it still is," Jay Z raps on the track. 
Jay Z continues by rapping about his Grammy Awards and riches, before referencing Prince, whose music is also exclusive to Jay Z's music streaming service. As he claims, with his music being on Tidal, it's protected in the Purple One's death. "Prince left his masters where they safe and sound," Jay Z raps. "We never gonna let the elevator take him down."
Some listeners, however, thought the Lemonade reference was a little weak. Others saw the rap as nothing more than a plug for Tidal.
While there's no official word yet on whether or not the rapper will release a new album — though the rumors continue to swirl — Jay Z's return, despite the haters and even with just a few verses, was a welcome sight to some Twitter users. 
You can listen to "All the Way Up," through Tidal, here. 
Read more: Jay Z Is Reportedly Preparing a Whole Album to Respond to Beyoncé's 'Lemonade'