Service Dog Earns Portrait in North Carolina High School Yearbook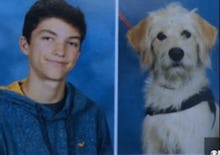 Staring casually out from the Northern Guilford High School 2016 yearbook, Taffy Hulse looks like many other proud graduates. 
Taffy, however, won't be graduating in the traditional sense, and is actually a service dog for one of the high school's students.
Taffy is a diabetic alert dog, and is responsible for keeping his owner, 15-year-old sophomore Harry Hulse (who is a student at the Greensboro, North Carolina school) alive.
As a diabetic, Harry often experiences sudden and dangerous changes to his levels of blood sugar, which require injections of insulin for stability. 
It's Taffy's job to spend all his time with Harry and let him know when he senses a spike or low in Hulse's blood sugar. 
"He'll alert me when that happens by pawing me on my leg or scratching me," Harry Hulse told 12 News. Naturally, the two are inseparable, but Taffy doesn't seem to mind. When he is not saving Harry's life, he generally chills out next to him.
The yearbook honor came as a surprise to Harry, but he was happy to see Taffy with him all the same.
"He looked really cool," Hulse told 12 News. "He looked better than me." 
Read more: The Bizarre Thing Baffling Amazon Users About This Toy Fighter Jet