Billionaire Peter Thiel Is Reportedly Waging a Secret War Against the Freedom of the Press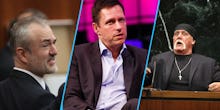 In one corner stands a brash, controversial media giant with a long history of outing gay public figures. In the other is a billionaire Trump supporter and supposed defender of the freedom of the press, throwing his riches behind a campaign to destroy the publication. Who looks worse?
On Tuesday night, Forbes alleged that Silicon Valley mogul Peter Thiel, who is worth an estimated $2.7 billion, has been secretly paying for and supporting a lawsuit against Gawker Media — a lawsuit that could put an end to one of new media's most powerful institutions.
The lawsuit comes from the professional wrestler Hulk Hogan, who was awarded $115 million after Gawker published an excerpt from his sex tape in 2012. Gawker is appealing the verdict, and has allegedly offered hefty settlements, likely in the millions of dollars. Gawker founder and CEO Nick Denton told Politico that the lawsuit could destroy Gawker entirely.
Thiel's support of the lawsuit is legal, but the lawsuit, and the dark money behind it, portends the frightening power of the money elite and their ability to silence the media. The tech businesses in Silicon Valley regularly consider themselves beyond scrutiny, so it comes as no surprise that its most influential moguls would literally use their money and power to shut down an organization that challenges it.
Thiel, a libertarian, is blocking one essential liberty
Thiel is an influential libertarian who has donated millions to political campaigns with the dogmatic belief that technology is a panacea for the inefficiencies in society. Thiel sees old institutions like government as impediments to the forward march of innovation.
Higher education isn't a part of Thiel's future either. His foundation regularly hands out grants to students who swear off college in favor of entrepreneurship — a controversial program.
"I stand against confiscatory taxes, totalitarian collectives, and the ideology of the inevitability of the death of every individual," Thiel wrote in 2009. "Most importantly, I no longer believe that freedom and democracy are compatible."
Typically, being a libertarian means believing in a hands-off approach: No government should interfere with a society's liberties — especially freedom of the press.
The long, bizarre history of Thiel and Gawker
Facebook is one of the most powerful companies in media today. It is a primary source of political news for millennials, and the News Feed algorithm has a tightening grip on the way online news companies do business. 
Thiel is the co-founder of PayPal and the data analysis giant Palantir Technologies, but the average American might know him as an early investor in Facebook. He's portrayed in the clip below from the 2010 movie The Social Network.
Thiel has allegedly been out for Gawker's blood since 2007, when Gawker published a story called "Peter Thiel Is Totally Gay, People," years before Thiel publicly discussed his sexuality.
"[Thiel] was so paranoid that, when I was looking into the story, a year ago, I got a series of messages relaying the destruction that would rain down on me, and various innocent civilians caught in the crossfire, if a story ever ran," Denton wrote at the time.
Thiel went on to refer to Valleywag, Gawker's former tech-industry blog, as "the Silicon Valley equivalent of Al Qaeda." 
Thiel still has a hand in Facebook's affairs. Gizmodo, Gawker Media's tech news site, recently revealed that Facebook employees routinely censored conservative news sites from Facebook's trending news section. Thiel, one of the only Donald Trump supporters among the Silicon Valley elite, sat in on a meeting between Facebook CEO Mark Zuckerberg and a list of 17 prominent conservatives last week.
Thiel was there to help Zuckerberg convince conservative leaders that Facebook had no interest in censoring the media.
The biggest hypocrisy of all
In a news story chock-full of "WTF" moments, perhaps the biggest hypocrisy is that Thiel would have people believe he's champion of the press. In 2009, he donated an undisclosed sum to the Committee to Protect Journalists.
"Technology can have positive and negative aspects," Thiel told Silicon Valley Watcher at the time. "I want to help the CPJ defend the rights of online journalists."
Regardless of whether Gawker deserved its verdict — the site has been widely criticized for outing other public figures, such as news anchor Shepard Smith and Condé Nast executive Chris Geithner — it's said that the Hogan case could end up having a chilling effect on journalism as a whole, setting a dangerous precedent for the freedom of the press. It's concerning enough that a member of the 1% and delegate for Donald Trump has been using his money to try and secretly shut down a major news institution.
Mic has reached out to Thiel, the Thiel Foundation and Palantir for this story; Thiel has been denying all requests for comment. Gawker, for its part, is asking courts to set the record straight.