Democrats Debate Ditching DNC Chair Debbie Wasserman Schultz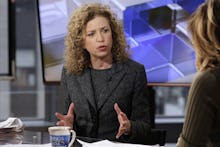 Some Democrats are privately discussing whether to force Democratic National Committee Chair Debbie Wasserman Schultz to step down ahead of the Democratic National Convention this summer, the Hill reported Tuesday, a decision some view could assuage angry Bernie Sanders supporters in the lead-up to the general election.
Some Democratic senators interviewed by the Hill said Wasserman Schultz has become too toxic a figure to gavel in the DNC — where Democrats will look to unite Sanders supporters behind Hillary Clinton, who is close to clinching the nomination.
Read more: Bernie Sanders Just Took a Huge Step Toward Igniting His "Political Revolution"
While Wasserman Schultz has stayed neutral in the primary, Sanders supporters have charged her with being an unfair arbiter of the process. And Sanders himself has even backed Wasserman Schultz's Democratic primary opponent for her House seat in Florida.
"I don't see how she can continue to the election. How can she open the convention? Sanders supporters would go nuts," one Democratic senator, who was granted anonymity to speak freely, told the Hill.
Wasserman Schultz has already made concessions to Sanders for the convention, including giving both Sanders and Clinton the ability to choose members of the party's platform committee — a committee the DNC chair is often solely responsible for filling.
Still, lawmakers interviewed by the Hill said that might not be enough for Sanders supporters, some of whom are already planning protests outside the convention in Philadelphia in July.
"They need to know this is their party," a second anonymous Democratic senator told the newspaper, referring to Sanders' base of young, liberal voters.
Since publishing its report, the Hill said a number of Democratic leaders — including Vice President Joe Biden's office — reached out to defend Wasserman Schultz.
Wasserman Schultz has given no indication that she intends to step down from her leadership role this year.
"She's going to continue to focus on uniting Democrats and on being an asset to help elect them up and down the ballot in November, just as she's done for many in both chambers," DNC communications director Luis Miranda told the Hill.