Watch Serena Williams Hit Some Incredible Tennis Trick Shots With Dude Perfect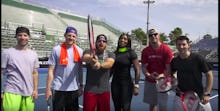 Serena Williams is one of the greatest tennis players of all time. Dude Perfect is the go-to YouTube channel for amazing trick shots. Combining the two is an obvious but entertaining recipe for success — with a painful butt shot to boot. 
Williams teamed up with the YouTube page to display her array of trick shots, nailing one after the other with relative ease, which included knocking a tennis ball container off of a moving target. 
Equally impressive was Williams' ability to take out all five dudes perfectly when they matched up against her on one side of the court. When they were finally able to return a serve, it was met with a precise, and painful, shot to the buttocks. 
Without a doubt, a trick the guys at Dude Perfect don't need to see repeated. 
Williams finished the video by casually using a giant tennis racket to knock a basketball-sized tennis ball into a basketball hoop. 
Now, we can definitely rank Williams as not just an all-time tennis great, but a trick shot savant. 
You can check out the full video from Dude Perfect below: 
Read more: Serena Williams Teaches Us All Why We Shouldn't Eat Dog Food