Colgate's Max White Toothpaste Is for Men's Teeth Only, Apparently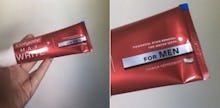 There are pink pencils for her with "inspirational" quotes etched on them to the tune of "Buy the Shoes!" and antibacterial for him dubbed "Mr. Mom." There's even an entire blog pointing out the obvious ridiculousness that is gendered products. 
And yet, the idiocy continues. On Monday, one Twitter user recently tore into Colgate for its "Max White for Men" product, advertised as a toothpaste with "powerful stain removal" that is "Power Peppermint" flavored. The product appears to only be available overseas.
What power actually tastes like, however, remains a mystery.
Did the dentophiles at Colgate assume it's only men who strive for blindingly white teeth? How will women ever be moved to smile more if they're not given every opportunity to achieve those picture-perfect pearly whites? And, let's be serious, how much more expensive would this toothpaste be were it not in red packaging but, say, pink?
Colgate isn't the first perpetrator of the issue (and certainly won't be the last). There are dryer sheets for men called "pure sport" — because women can't be athletes, of course — "lady hammers" with pink handles to get the job done and even soup.
Yes. Soup.
A YouTube consumer affairs show The Checkout noted Legos saw a 25% spike in global revenue once they targeted girls with this commercial in 2012:
And kids are onto it, as this video of famous internet child Riley proves.
"Girls want superheroes, and the boys want superheroes!" she explained to her father during a trip to a toy store. "The companies that make these try to trick the girls into buying the pink stuff instead of stuff that boys want to buy."
Indeed it is a trick, Riley. And we're not falling for it, either.
Read more: These Pink "For Her" Pencils Are Pissing People Off, Unsurprisingly