The 'Finding Dory' Trailer May Feature Pixar's Very First Lesbian Couple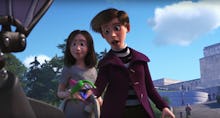 While the Pixar films Finding Nemo and Finding Dory feature the voice of famous lesbian Ellen DeGeneres, a new Finding Dory trailer released Tuesday led fans to speculate that a lesbian couple may be featured in the film. 
Throughout the trailer, an octopus named Hank helps main character Dory, a fish with short-term memory loss, on her journey. In the hijinks, the octopus ends up in a baby carriage which appears to belong to a lesbian couple. Fans took note. 
While it's not certain that the women depicted are actually a lesbian couple, fan speculation suggests just how much people want to see Disney films embrace LGBT characters. 
In May, two separate hashtag campaigns asked that Disney incorporate LGBT characters into its franchises. #GiveElsaAGirlfriend rallied for Frozen's Elsa to get a woman for a partner, while #GiveCaptainAmericaABoyfriend called on Marvel to let superhero Captain America to bring his relationship with his best friend Bucky to the next (read: a non-platonic) level. 
Frozen featured an LGBT couple in a blink-and-you'll-miss-it moment. When a male character named Oaken points to his family (at 2:12 in the video below), he points to another man and four children. 
Both hashtags surfaced after LGBT advocacy group GLAAD gave Disney a "Failing" grade for the representation of LGBT characters in its movies. 
While a short scene with a white lesbian couple isn't a cinematic revolution, it's a small step forward and a sign of Pixar's and Disney's willingness to show the kids (and adults!) who watch their films that LGBT people exist — in the real as well as the animated world. 
Watch the Finding Dory trailer below: