Raven-Symoné Shares 2 New Tracks, and Twitter Sends Them Right Back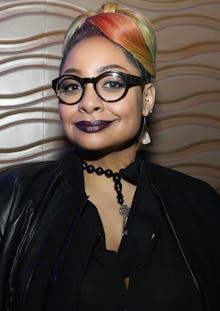 Before Raven-Symoné became a host on The View and a go-to voice box for any and all controversial opinions, she actually had a little stint as a recording artist. Aside from her Disney soundtrack catalog, she's got four albums to her name. And now she may have even more on the way.
Tuesday, Raven-Symoné shared two new tracks via Soundcloud. Each track came with a little description.
The first, an uptempo pop ballad filled with car-related sexual innuendo, "Cruise Control" reads:
A soft melodic transparent story of sex and speed filled with ambient sounds and undertones of sexual frustration.
The second, a disorienting Warcraft-esque fantasy narration, "Sarafina" reads:
"Tis' Dusk when the war starts" Eerie sounds of melodic, fantasy vocals describing a world that can only be named Sarafina...
Twitter's response was a resounding "Nope."
Raven-Symoné hasn't exactly made too many friends on Twitter over the years. She drew ire from users after she blamed a Spring Valley High School student for the physical assault she experienced at the hands of a police officer in October. Raven's saying she wouldn't hire someone with a "black" name did the same, and added ammunition to a petition attempting to get her removed from the View.
Her politics tainted some listeners' ability to listen to the songs altogether.
 For others, the songs themselves were bad enough.
Listen to the two tracks below.