Rihanna's New Dior Shades Might Be the Craziest (But Also Coolest) Sunglasses Ever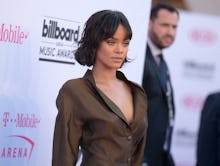 Rihanna has a way of pulling off the most impossible-looking clothing imaginable. 
A see-through dress? Not a problem. Shoes that double as pants? It's handled. Yet another nipple-baring top? Absolutely OK A dress that's right out of the Barefoot Contessa's closet for the Billboard Music Awards? Totally fine. 
So when news hit that Rihanna was working on a sunglasses collection with the high-end designer Dior, the fashion world waited with bated breath. And the results are... something, yet again, only Rihanna can pull off. 
Star Trek meets '90s hologram chic; Tron meets your dad's embarrassing wraparound sunglasses he wore to Disney World in 1998. 
"There is one frame available in six variations — the silver, pink, blue, green and red styles will retail for $840, while a deluxe 24-karat gold-plated version will sell for $1,950," Women's Wear Daily reported. So, apparently, it's pretty expensive to look like you just hopped off the Starship Enterprise.  
However, that's exactly what Rihanna was aiming for. According to WWD, Rihanna had named La Forge from Star Trek as her actual inspiration for this line.
"I've always been obsessed with his eyewear, and when I got to Dior and saw all the materials I could play with, it all just came together," she said in a statement via WWD. 
This isn't even Rihanna's first foray with the luxury design house. In 2015, she starred in a Dior campaign that had her looking like she walked straight out of a James Bond film. But for this campaign, she obviously had a different mission.  Rihanna continued:
The process was pretty seamless. I spent a day at Dior with their eyewear design team. I started by looking through all the archives to see what they've done in the past, then got acquainted with all the new materials. I literally sat there and drew and drew until I was happy with the design, and the team illustrated it for me right then and there. We picked materials and colors that same day, and after that it was a matter of weeks before I saw the first prototype.
That level of perfectionism shouldn't be a real shocker either, since she's quickly legitimized herself as a serious force within the fashion world over the years, from campaigns to recent forays into design. Just this past February, for New York Fashion Week, she presented her full collection Fenty Puma by Rihanna, and last year, she signed a three-year deal with Stance socks. 
Read more: Rihanna's Manolo Blahnik Shoe-Pants Are Forcing Us to Ask Many Questions
Already on her Instagram, she's modeled a few versions of the specs, which will available exclusively in Dior stores beginning in early June. 
Although they do look great on her, the sunglasses do raise a few questions: 
1. How do they stay on your face? 
2. Since they are quite large and obviously expensive, will people try to steal them? How do we prevent this? Is there a tiny lock we can buy? 
3. How heavy are they really? Don't lie, Rihanna. 
4. What if our head is too big? 
5. What if our head is too small? 
6. We feel like theses sunglasses could give you massive blind spots, so is there a tiny side-view mirror inside? Are you constantly trying to peek around them? How do you live? 
7. Will these sunglasses give us the power to ignore Drake?  
8. If we buy these, how many steps closer to actually being Rihanna are we?
Just wondering.