A French Auction House Is Trying to Sell These Sacred Native American Artifacts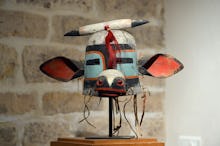 To most people, the array of bright masks on display at the Eve auction house in Paris are nothing more than artwork for sale, decorative and remarkable pieces for aesthetes to add to their collections. But to Native Americans, the artifacts are sacred objects not meant for greater public consumption.
According to the Guardian, leaders of native tribes in the United States are calling for the auction house to return the artifacts — at least one of which features actual hair of their ancestors — to their respective communities rather than putting them up for auction on Monday.
"When these objects have been created for ceremonies within our community, a spirit goes into them," Bradley Marshall, a representative for the Hoopa Valley Tribal council of California, told a press conference on Tuesday. "When we create the objects, we're in prayer, we're breathing life into the object. And so these objects are not just a mere object in some fancy collection. These objects are living beings to us."
He called the auction (and others like it) "deplorable," adding, "It harkens to me of the slave auctions that took place so long ago that we thought they were past." 
Read more: This Native American Chef Is Championing Food Justice in the Most Innovative Way
Native Americans clashed with auctioneers in France over the same issue in June 2015, when an auction house sold roughly $450,000 worth of Native American masks and statues. Officials from the U.S. called for France to end the practice back in 2013, in a letter stressing the cultural importance of the objects. The message, it seems, hasn't taken. 
The Guardian reported that this past Tuesday, representatives from the Smithsonian's National Museum of the American Indian held an "emergency meeting" with multiple Native American tribes as well as state and federal U.S. officials. 
Online, Twitter users are rallying around the hashtag #StopTheParisAuction, calling out Eve auction house for profiting from and appropriating Native American culture:
At Tuesday's press conference, Pueblo of Acoma's governor Kurt Riley said, "We are appealing to the people of France, and to the French authorities, to honor our humanity and the value of our ancient traditional beliefs by stopping this sale and returning this item."