Hackers Attacked Deadmau5 in the Most NSFW Way Possible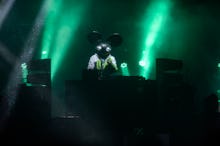 Most people get a generic email when an online account is exposed to a security threat. If you're Deadmau5, a group of hackers will send a rubber dick to your address.
On Monday night, the DJ's SoundCloud was hacked by OurMine, a team that calls itself a "Security Group" on Twitter. OurMine has previously hacked PewDiePie, some other popular YouTubers and the creator of Minecraft, according to its Tumblr page. 
OurMine hacked into Deadmau5's SoundCloud account and uploaded a new track which has since been taken down — but according to Your EDM, it was "pretty hilarious," and referenced the hack. Deadmau5's SoundCloud has since been audited and restored to him.
Deadmau5 live tweeted the incident as it unfolded. Based on his tweets, it looks like the hackers also tried to leak nudes of the DJ, dox his address and phone number, and hack into his credit cards and DropBox account. They also sent two "vibrating penis dick party torch lighters" to a Canadian home addressed to Joel Zimmerman — or Deadmau5's birth name.
OurMine claims these attacks are just security checks, but the average McAfee Virus scan doesn't send a dildo for every security flaw it finds. But still, the team stands its ground, touting itself as a Robin Hood of software vulnerabilities rather than a group of black hats:
While a duo of novelty phalluses and a diss track are low-hanging fruit in the hacking sphere (other hackers are selling 117 million passwords from LinkedIn and some have resulted in "swatting," or finding someone's address and calling in a S.W.A.T. team to their house), it is a reminder that anything and anyone is vulnerable to hacking attacks. It is also a reminder that SoundCloud could up its security game.