Model Stina Sanders Is Taking a Stand Against Unsolicited Dick Pics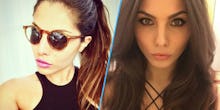 Being a woman on Instagram is pretty much a guarantee that an unsolicited dick pic is prooobably poking its way into your DMs right at this very moment.
"I receive erect penis images at least three times a week," model-slash-blogger Stina Sanders wrote in a recent post on her website. "Yes you read that correctly. At least three times a week, I receive an unwanted dick pic."
In a bold move last week, Sanders decided to clap back at a recent offender by publicly posting (and, mercifully for us, cropping) his unsolicited dick pic to Instagram herself — along with her own sassy li'l response about how teenie his weenie is.
"I received that image and thought that I needed to highlight just how serious this harassment is," Sanders said in an email. "So many people are affected and our society is just brushing it under the carpet."
Women who've taken similar stands against unsolicited dick pics include model Emily Sears, who brazenly forwards such messages to the men's close family members and girlfriends (muahaha!). Actress Debra Messing has also very publicly called out dick pic senders by gifting us with the following iconic tweet last November:
Bless you, ladies.