Everything About This Coffee Shop Is Pretty Standard — Except for Its Homeless Baristas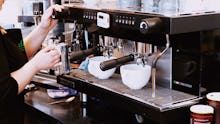 London's Second Shot coffee house is pretty status quo as far as cafes go: Espresso machines, latte art and flaky pastries forge the store's aesthetic. But what makes the shop stand out from the thousands of other java joints in the city is its employees. All of them are homeless.
"Running as a social enterprise, the cafe is taking on the capital's homeless problem by training and employing those who have found themselves sleeping on the streets," Vice reported. Second shot is working to provide some of the 7,500 people who sleep on London's streets every year with the skills they need to land full-time jobs and, hopefully, full-time housing. 
Second Shot is more of a launch pad than an end game for its employees. "Barista training is a good entry level role and people will be able to master pulling a good shot after a couple of days," founder Julius Ibrahim told Vice. "Coffee shops are an accessible way to interact with different people and break down preconceptions of homeless people and what homelessness is."
The shop gives its customers a chance to do some social good, too. With the "Pay It Forward" concept, patrons can tack on a few extra bucks to their order to buy a hot drink or bite for someone in need. An extra pound — around $1.50 — buys a coffee, for example, and an extra 4 pounds provides a full hot meal. 
State-side, RedTail Coffee follows a similar, socially conscious model to model: The Fort Collins, Colorado, coffee shop employs homeless and low-income people to deconstruct stereotypes and provide them with economic opportunities. Businesses like these make the process of getting a caffeine fix a more worthwhile endeavor for their customers.