Apple CEO Tim Cook Says He Saw an iPhone in This 346-Year-Old Painting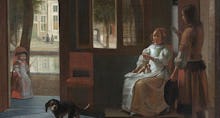 Historical records indicate the iPhone debuted in 2007. 
But on a recent visit to the Rijksmuseum in Amsterdam, Apple CEO Tim Cook saw what appeared to be an iPhone — in a painting from the 1600s.
"I always thought I knew when the iPhone was invented, but now I'm not so sure anymore," Cook joked at Startup Fest in Amsterdam, according to NBC.
The painting in question is Pieter de Hooch's "Man Hands a Letter to a Woman in a Hall." The letter in the painting is roughly the size and shape of an iPhone:
Cook does it for the LOLs, people. Of course, Apple's first-generation iPhone hit shelves in 2007 — not 1670.