Hillary Clinton Hit With Scathing State Department Report on Email Use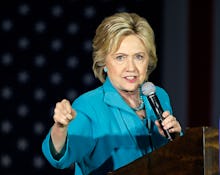 Hillary Clinton violated federal records-keeping requirements by using a private email server during her tenure as secretary of state, the U.S. Department of State determined in a scathing report released Wednesday — a finding that comes as the likely Democratic presidential nominee struggles to fend off presumptive Republican nominee Donald Trump in recent polls.
The report, from the department's independent inspector general, states flatly that sending emails from a personal account to other employees at their government accounts is "not an appropriate method of preserving emails that constitute federal records."
The inspector general also found "no evidence" that Clinton obtained legal approval prior to the setup of her personal server in 2009, and that Clinton's team failed to heed warnings dating to 2010 that her email arrangement may have violated records-keeping rules.
Read more: Hillary Clinton's Email Woes Aren't Going Away
Moreover, the report states, Clinton should have handed over all work-related emails upon leaving the Department of State in February 2013, rather than waiting until December 2014, after the department had requested Clinton's records.
Brian Fallon, Clinton's national press secretary, maintained Wednesday that Clinton's email practices were "not unique, and she took steps that went much further than others to appropriately preserve and release her records."
In response to the inspector general's report, the department conceded that it "could have done a better job" ensuring the proper preservation of records.
Meanwhile, Clinton's email use is the subject of an ongoing FBI probe — reportedly in its final stages — and a federal lawsuit, in which Clinton herself may have to testify.
On top of legal proceedings, Clinton is under withering attack from Trump on the matter. The GOP hopeful has signaled that he'll relentlessly attack her on the issue in the general election and ridiculed her contention that the 32,000 private emails she deleted pertained only to matters like "[my daughter] Chelsea's wedding or my mother's funeral arrangements, condolence notes to friends as well as yoga routines, family vacations."