Here's What Happens When LinkedIn Tells All Your Contacts You're a White Supremacist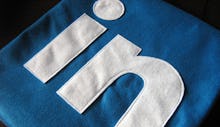 Frustration, anxiety, annoyance — these are all the emotions that washed over middle school teacher William Johnson when a pesky LinkedIn algorithm confused him with a white supremacist of the same name, Johnson wrote in an article for Slate.
After news broke that presumptive Republican presidential nominee Donald Trump had suggested appointing white nationalist William D. Johnson as a delegate for the upcoming Republican Primary in California, LinkedIn sent out a note to the other William Johnson's network.
The email was titled "News About William Johnson." Inside was a paragraph about Trump's decision to put a white nationalist on the list of California delegates, and next to the headline was a smiling photo of William Johnson, the teacher. 
Johnson immediately received confused responses from his LinkedIn connections, he wrote. Curious, Johnson read up on William D. Johnson. He learned that the white nationalist chairs the American Freedom Party and has attended conferences hosted by Holocaust denial groups, according to the Southern Poverty Law Center.
"Not only am I not a Nazi, I'm a Jewish socialist with family members who were imprisoned in concentration camps during World War II," Johnson wrote. 
Johnson said he reached out to LinkedIn asking them to issue a correction email to all his contacts. After two hours with no response, Johnson sent another. Five days later, LinkedIn responded to his request. According to Johnson, the company eventually agreed to send out an email alerting Johnson's contacts of the mistake. 
Though he was able to get a the company to send a note addressing the error, Johnson says LinkedIn doesn't purport to deliver accurate information in its "Connections in the News" newsletter. Each "Connections in the News" email features a disclaimer that reads "LinkedIn does not guarantee that news articles are accurate or about the correct person." 
In the rush to "move fast and break things," many tech companies launch products before they're ready — but unleashing unready products on users does have consequences. In Johnson's case the repercussions weren't dire, but they were embarrassing. No one should have to explain to their professional acquaintances that they are not a white supremacist because of a faulty algorithm. This is especially true when the platform at fault is one that promises to enhance career opportunities.  
"I don't expect much from companies like LinkedIn," wrote Johnson. "But when their incompetence makes our lives more difficult, they could at least pretend to care a little more."
In response to Johnson's experience, LinkedIn sent the following statement via email: "While we go to great lengths to ensure mis-identification does not occur, we did not catch this error for Mr. Johnson. We regret the delay in getting this resolved and are sorry he experienced this. Connections in the News has been a popular feature with members as it helps them stay informed when it comes to news regarding their network." 
May 25, 2016, 5:23 p.m.: This story has been updated with a comment from LinkedIn.