Elizabeth Warren Calls Donald Trump a "Small, Insecure Money-Grubber" at Gala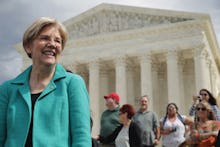 Massachusetts Sen. Elizabeth Warren was in full attack mode Tuesday evening while addressing the annual gala of the Center for Popular Democracy. As they so often do these days, her remarks came back to Donald Trump.
"Donald Trump was drooling over the idea of a housing meltdown because it meant he could buy up more property on the cheap," she belted with indignation, adding that Trump was "a small, insecure money-grubber who doesn't care who gets hurt so long as he makes a profit off it."
The line was met with cheering from the receptive crowd, with Warren additionally assailing the presumptive nominee for what she said was his support of big banks. "Take the hint Donald, the time for letting big banks call all the shots in Washington, it's over."  
Warren posted video of her 10-minute address to Facebook where it promptly went viral, generating more than 30,000 shares as of Wednesday morning.
It's not the first time Warren has dinged the mercurial billionaire. Earlier this month, she went after him on Facebook saying he had "built his campaign on racism, sexism and xenophobia." The move goaded the real estate magnate into assailing Warren publicly, deriding her as "Pocahontas" on Twitter — an allusion to Warren's previous claims that she has Native American ancestry.
With polls between Trump and his likely Democratic rival Hillary Clinton tightening, many are openly suggesting that Warren should be placed on the ticket to run alongside the former secretary of state. 
Read more: Elizabeth Warren Hits Out at Ted Cruz in Epic Tweetstorm — "2 Words: Boo Hoo"