Mark Zuckerberg Just Gave the Chewbacca Mask Lady Candace Payne the Surprise of a Lifetime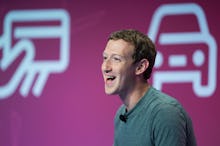 Texas mom Candace Payne might just be having the best week ever.
On Tuesday, she was invited to Facebook headquarters for a special surprise after a joyous video she took of herself trying on a new Chewbacca mask, filmed in the parking lot of a Kohl's, became the most-watched Facebook Live broadcast of all time.
"We invited Candace Payne — whose Chewbacca mask video got 141 million views and is now the most-watched Facebook Live video ever — to come by Facebook HQ today," Facebook CEO Mark Zuckerberg posted on Tuesday. "And we had a fun surprise for her!"
A series of photos showed Payne hanging around the Facebook campus with someone in a Chewbacca costume, doing all the fun things you would want to do with Chewie: biking, drinking coffee, posing next to a Facebook sign.
On Monday, Payne made a special appearance on The Late Late Show with James Corden, and got to meet Star Wars director J.J. Abrams.
How will Payne ever come down from the incredible high of meeting Abrams, a social media billionaire and a real live Wookie in the same week? 
Read more: Chewbacca Mask Prices Soar on Amazon After Woman's Viral Video in a Kohl's Parking Lot