The Hypocrisy in How Culture Treats Kristen Stewart and Woody Allen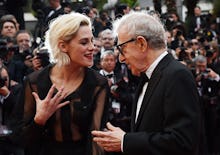 Kristen Stewart had two films premiere during the Cannes Film Festival in May. One got booed, while the other got a three-minute standing ovation. It may come as a surprise that infamous figure Woody Allen directed the latter.
Personal Shopper, featuring Stewart front and center in a film directed by Olivier Assayas, received a harsh, perhaps surprising audience response. Assayas previously directed Stewart to a Cesar Award — essentially a French Oscar — making her the first American actress to do so. Personal Shopper garnered worse critical reception than their last partnership, Clouds of Sils Maria, but she did earn plaudits for her performance.
Read more: Woody Allen Is Producing a New TV Show — And It Should Never See the Light of Day
Allen's film, Café Society, hit the festival during a veritable PR hurricane for the director. First came his profile in the Hollywood Reporter. Then, the magazine ran a strong rebuke to the profile from his son, Ronan Farrow. Café Society's female stars, Stewart and Blake Lively, came under fire for their defenses of working with alleged pedophile Allen.
Yet it was Allen's film that received the ovation and the stronger reviews. It's a bit confusing — but ultimately, it should have been expected. Allen getting lauded while Stewart gets dissed is merely part of a destructive Hollywood cycle that protects men and punishes women for the same crime: sex.
Several things separate Stewart and Allen. For one, Allen has been working for decades, with a filmography any director or screenwriter would envy. Stewart, on the other hand, spent a huge chunk of her career making franchise films. She's turning things around now, but only after hitting rock bottom first: cheating on then-boyfriend Robert Pattinson and publicly confessing.
That's another thing that differentiates the two controversial figures: Stewart owned up to her failing. She took responsibility for her infidelity, and as the Hollywood Reporter noted at the time, the apology "backfired."
Allen, on the other hand, continues to deny any wrongdoing with regard to daughter Dylan's accusations he abused her as a child. Despite evidence against him, Allen merely waves any talk of his alleged abuse away.
"I said everything I had to say about that whole issue in the New York Times," he said, referring to a 2014 column for the paper of record in which he refuted Dylan's claims. "I have moved so far past it. I never think about it. I work. I said I was never going to comment on it again. I said everything I have to say about it."
There's privilege in being able to "move past it." Though Allen will likely still get the odd question about Dylan's accusations at press conferences for the rest of his life, he's still making movies at the same rate as ever. He has a deal with Amazon to basically make whatever series he wants to make. He will keep going, and he will keep getting applauded and feted without recourse.
Stewart has also moved on in that few ask her about Pattinson now, but owning up to her mistake had a significant effect on her career. She played Snow White in Snow White and the Huntsman, but she was cut out of the sequel. The movies she's made since have been independent ventures, with little traction at the box office. 
Money isn't everything, of course, and Stewart is likely artistically fulfilled. But in cold-hard-cash-focused Hollywood, it's hard to look at her career and not notice how quickly her star fell.
Again, there are plenty of factors that differentiate Stewart and Allen. Cannes audiences did not boo her film with Assayas and cheer her film with Allen because she cheated on her ex-boyfriend. It's not that cut and dried.
But the gap in how culture treats these two is remarkably hypocritical. It's also not a new pattern. Kim Kardashian West makes a sex tape and is resigned to a life of being slut shamed, no matter how powerful she becomes. Actress Mackenzie Phillips says her father raped her, and her claims are discounted by even her family. Meanwhile, it took a male comedian speaking up about Bill Cosby for anyone to pay attention to the scores of women who were telling stories about him.
The current Hollywood system punishes women for sexual frankness while helping men hide from their failings and alleged crimes. At Cannes, the treatment of Stewart and Allen by press and by audiences made this dichotomy crystal clear. Unfortunately for Stewart, and all young women in Hollywood, it is a dichotomy that will continue.