Dormant Butt Syndrome Is Real and It's More Than Just a Pain in the Ass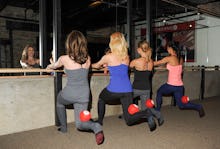 In a booty-obsessed world, butts are a valuable asset. 
Marathon runner Jennifer Ernst found out the true worth of a healthy derrière when she went to the doctor with a persistent pain in her knee. According to CBS New York, when Ernst's physical therapist discovered she'd torn her meniscus, he diagnosed her with dormant butt syndrome. 
Chris Kolba, a physical therapist at the Ohio State University Wexner Medical Center, told CBS, "It basically refers to the gluteus maximus or the glute muscles just not functioning as efficiently as they should." And neglecting your booty, he added, can have serious repercussions for the knees, hips and back.
Read more: New Report Reveals Butt Implants Are Quickly Becoming the New Breast Implants
Naturally, one of the primary causes of dormant butt syndrome is something butts do best: sitting, which has long gotten a bad rap for its link to cancer, heart disease and diabetes. Other super comfortable positions, like sleeping in the fetal position, lend themselves to dormant butt syndrome, too.
To ward off the problems associated with a sleepy tush, Kolba suggests stretching the thighs and hip flexors as well as activating the glute muscles. 
Take James Brown's lead on this one and "get up offa' that thing" — doctor's orders.