Gay Olympian Gus Kenworthy Just Used "Ghetto" to Describe His Uber Ride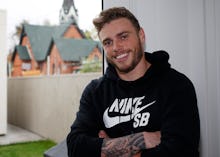 He may be an Olympic skier, but gay athlete Gus Kenworthy is not winning any medals for the way he described a recent Uber ride. 
Kenworthy uploaded a short video to Snapchat on Tuesday that showed him in the backseat of a car. With the driver's eyes on the road, Kenworthy zoomed in on the place where either the glove compartment or the airbag should be — an open space with exposed wires. Kenworthy captioned the snap "Ghetto ass uber ride..." 
Kenworthy may be unaware of the racial and socioeconomic implications of using the word "ghetto."
"Ghetto" is a racially coded phrase that's best avoided. Urban Dictionary lists several definitions — its historical meaning (a place where Jews were forced to live during Nazi Germany), its dictionary definition (an impoverished area) and its slang meaning (an adjective used to denote something cheap). 
The word has sparked controversy several times over the past few months. Fairfield University students threw a "ghetto"-themed party in February, cell phone provider Sprint ran a commercial calling rival T-Mobile "ghetto" in April and Bernie Sanders used the word in March. Each instance was met with a backlash. 
Just a quick scan of these four instances shows a disconnect between its disparate uses: Are people using "ghetto" as shorthand for black culture? Or are they talking about people living in deep poverty regardless of race? The more people use "ghetto," the more it seems people conflate black culture with poverty. 
If you are trying to say something is cheap, call it cheap. If you want to say black, say black. And, if you're talking about Jewish enclaves during World War II, go ahead, say "ghetto." 
Kenworthy's history of racial insensitivity doesn't start at his "ghetto" faux pas. On Halloween 2015, Kenworthy posted a thirst trap picture of him shirtless wearing a headdress.
Kenworthy deleted the Native-inspired post and apologized after Twitter users alerted him that it was offensive. 
Kenworthy did not immediately respond to Mic's request for comment.