Here's What's Coming to (and Leaving) Netflix in June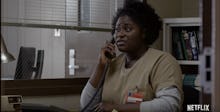 With summer comes the plethora of blockbusters from which moviegoers can choose. But for the frugal pop culture savants out there who can't afford the weekly theater excursion, Netflix has some excellent offerings too. Acclaimed dramedy Orange Is the New Black returns for a fourth season, while its kid-friendly choices receive a boost with its Voltron: Legendary Defender cartoon series.  
Netflix's movie selection will also improve with the likes of the Jurassic Park trilogy, guilty pleasure A Walk to Remember and this year's best picture Oscar winner, Spotlight. 
Check out the full lineup of what's coming to Netflix in June, as well as some of the soon-to-depart.
Coming to Netflix in June
June 1
7 Chinese Brothers
72 Cutest Animals, season one
72 Dangerous Places, season one
A Walk to Remember 
Big Stone Gap 
Bob Ross: Beauty Is Everywhere
Breaking the Magician's Code: Magic's Biggest Secrets Finally Revealed, season one and two
Cold in July
Conspiracy Theory: Did We Land on The Moon?
Cuba: The Forgotten Revolution
(Dis)Honesty: The Truth About Lies
El Libro de Piedra 
Elizabeth: The Golden Age 
Extraordinary Tales
The Fear of 13 
Gabo: The Creation of Gabriel García Márquez
Gentlemen and Gangsters, season one
The Good Witch, season one
The Great Alone
Hadwin's Judgement
J. Edgar 
Jaco
Janis: Little Girl Blue 
Jurassic Park 
Jurassic Park III 
Lion Heart
The Lost World: Jurassic Park 
Meadowland
The Odd Couple II
Off Camera, season one
Pokémon The Movie: Hoopa and the Clash Of Ages 
Pokémon: XY: Kalos Quest, season one
Portrait of a Serial Monogamist 
The Resurrection of Jake the Snake
Rock the Kasbah 
Sam Klemke's Time Machine 
Second Coming 
Tab Hunter Confidential 
UFOs: The Best Evidence Ever (Caught on Tape) 
Underdogs 
What Our Fathers Did: A Nazi Legacy 
Wildlike 
June 2
Beauty and the Beast, season three
Hibana: Spark
Pretty Little Liars, season six
June 3
Bo Burnham: Make Happy (Netflix original)
June 6
Darkweb
June 7
Every Thing Will Be Fine 
Jarhead 3: The Seige 
June 10
Lego Friends: The Power of Friendship, season two
Voltron: Legendary Defender, season 1 (Netflix original)
June 11
Me Him Her 
Scandal, season five
June 12
Already Tomorrow in Hong Kong 
June 14
The League, season seven
June 15
After the Spill
Boom Bust Boom 
The Giver 
In the Shadow of the Moon
Naz & Maalik 
Night Owls 
Poverty, Inc.
Top Spin
TransFatty Lives 
June 16
Being Mary Jane, season three
Marvel's Agents of S.H.I.E.L.D., season three
The Unborn 
June 17
All Hail King Julien, season three
Orange Is the New Black, season four (Netflix original)
June 18
Cedar Cove, season three
Grey's Anatomy, season 12
June 19
Bunk'd, season one
I Am Thor 
June 20
Life Story, season one
The Making of Life Story
June 21
Best Friends Whenever, season one
June 22
Sin City: A Dame to Kill For
Spotlight
June 24
Dragons: Race to the Edge, season three
The Fundamentals of Caring (Netflix original)
Justin Time GO! (Netflix original)
June 27
Cronies 
June 29
Life 
June 30
A Very Secret Service, Season 1 (Netflix original) 
Palio 
(T)ERROR 
The biggest movies leaving Netflix in June: 
About a Boy 
Bridget Jones' Diary 
Click
Dude, Where's My Car? 
Mulan
The Others 
The Sisterhood of the Traveling Pants 
Wayne's World 
Who Framed Roger Rabbit 
Read more: Netflix Saves Users About 6 Days a Year That Would Be Spent Watching Commercials on Cable