On Camera, this Congressman Couldn't Help but Make Sexist Jokes About Kim Kardashian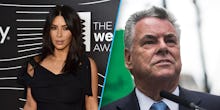 When a TMZ cameraman asked Congressman Peter King about recent allegations that Kim Kardashian West is an undercover spy, the New York Republican seemingly couldn't resist the urge to sling a few lewd puns at the reality star's expense.
"Well she's definitely an asset, I can't go beyond whether she's an intelligence asset or..." King said, seemingly playing on the word "ass". 
The TMZ employee's question came in the wake of accusations made by the Iranian government that the Keeping Up With the Kardashians star is a spy who exists to corrupt Iranian women through Instagram.
"She certainly has a lot at her disposal...she has a lot of weapons... and she probably has a lot of secrets. So you decide whether that's a spy or not. And, she's good undercover," King added.
King was apparently referencing the sex tape made by Kardashian West and her then-boyfriend, Ray J, in 2006. A recent blog post penned by the reality star reveals that she is tired of the frequent references to the tape's existence that plague her 13 years later.
"I lived through the embarrassment and fear, and decided to say who cares, do better, move on," she wrote. 
King, the chairman of the Counterterrorism and Intelligence Subcommittee, also joked that the true identity of the 35-year-old celebrity was a matter of national security — one that could land him in hot water for revealing.
"This really goes to the highest levels and I really can't go any further than that. This is really national security and I have to end the interview now because I'll be shot if I tell you the truth," he said.
Read more: Kylie Jenner Lip Kit Fans May Want to Read This Better Business Bureau Product Alert