7 Adorable Photos of Kids of Color That Nail Why Representation Matters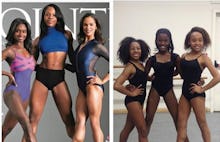 People of color are shattering stereotypes about what it looks like to be a ballerina, a Disney princess or a Star Wars Stormtrooper. 
These images have had a clear impact on a new generation.
Here are just a few examples of kids who are killing the imitation-as-flattery game for prominent figures who have helped them to believe that the sky is the limit.
This angelic one as Zendaya with dreadlocks at the 2015 Oscars
And Zendaya now has her own Barbie, too.
This little one in awe of Uzo Aduba in The Wiz
These three on-pointe ballerinas
Copeland also has her own Barbie.
This princess who is so grateful for Princess Tiana
This little guy in Brazil with the first black Stormtrooper
"It's time to be thankful," John Boyega wrote. "From what you carry in your hands to the potential of your mind, you are a king, young man." 
See the excitement in this Star Wars fan's eyes?
Baby Janelle Monae on stage with the rockin' "Electric Lady"
And there are many more Monae clones, too.
Hold fast to your dreams.