How to Tell Your Friend Their Instagram Is a Vain, Horrible, Mind-Numbing Mess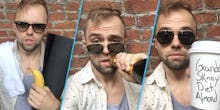 Let's begin with a prayer:
"In the name of the Kim-ye, the TSwift, and the Holy Oscar Selfie.  
We are living in an age where if you don't Instagram brunch, it didn't happen. Where instead of "how many years of experience do you have" it's "how many followers do you have?" Where even benevolent majesty Adele is forced to clap back at fans for watching her concerts through their camera rather than experiencing them firsthand. We are constantly broadcasting our lives for whatever audience is tuning in; crafting plots and digitally altering appearances in the hope that our morning coffee becomes an enviable work of art. 
Some thrive in this environment. They produce content that entertains and engages their audience and can even turn into a viable career. Others do even more by igniting social change through their engagement of the online community, like the digital activism of #FreeTheNipple to protest gender-specific censorship or the 2014 viral dominance of the ALS Ice Bucket Challenge.
Read more: Think You Know How to Use Instagram? These People Are Literally Professionals
Still others find this social medium a little challenging to grasp (hi, mom). They consistently choose quantity over quality. They aggressively post attention-seeking, thirst-trap stunts (not you, mom). It's the "Coachella vibes" pics, when they're clearly in Cleveland. It's anyone who uses the word "tablescape." And it's those special few who chronically post evidence of going to (or potentially living at) the gym. The below advice is born from their misdemeanors. 
These cries for attention have the potential to be engaging, but more often than not result in a resentful audience secretly yearning to unfollow (but nervous you have an app that alerts you when they do). We are doing something important by intervening with these lost souls: We are pointing out the proverbial food in their teeth. It's an awkward conversation to have, but in the grand scheme of things we are doing our clueless friends a favor. Walk up behind them, stare them right in the selfie cam, and calmly say, "It's time to have the talk."
When you want to say "Your IG is shaping up to be a bigger mess than the 2016 Republican National Convention."
Instead say "Treat your Instagram like a resume."
A 2014 study found that 51% of employers have cited social media as a reason they've passed on potential new hires. That statistic is likely on the rise as Instagram has continued to deepen it's mainstream presence with a whopping 400 million active users as of 2016. Gently advise your friend to clean up their social content as if it was their resume because, baby, in this day and age, it is.
 Social media is the first and most public impression they have, and that's a very powerful thing. And their digital reputation, more often than not, is the first impression for potential employers. 
The co-founder of recruitment company A-List Solutions, Jeff Lipschultz, acknowledges that "hiring managers will use any publicly available information to learn more about you." His advice in a recent article warns that the days of an interview and a resume being the only factors are long gone. "You must think of your social media personality as an extension of your real personality," adding that "the good news is you can leverage social media to build your image as much as to wreck it."
When you want to say "You're so vain, you literally post more selfies than @mrpimpgoodgame."
Instead encourage them to be more specific with their posts.
Everett Williams, the blogger and IG it-boy behind @everettwilliams (with about 84,000 followers to boot), knows the ins and outs of Instagram because his job literally depends on posting engaging content. His account is a visually stunning documentary of his travels and styles. Selfies abound, but they are all unique. In an interview he revealed his belief that there is never such a thing as too many selfies, "as long as they each offer something different."
At the end of the day, people are viewing your profile to view you, but remind your friend it's important to offer something more than just the same kind of shots over and over again. Williams would have you encourage your friend to "find their niche or something that will bring the account together," because according to him, "Finding something that is unique or special about your style of content will make everything much more coordinated and just overall put together." In other words, firmly redirect the Miranda of your group from putting up too many of the same photos in her sweatpants at home and instead encourage her toward developing her niche style with some timely and well curated  #LeisureLawyer pics.
If these gentle words are still not getting through to your friend, we've got another selfie-specific guide to help hone the art of the front-facing camera.
When you want to say "If I see one more sunset photo from your beach vacation, I'm going to throw up... and then DM you a picture of it so you know exactly how it feels."
Instead help them figure out how to post on a schedule.
Hallie Wilson is a seasoned social media pro who created an ultra-popular Instagram account and lifestyle website, Corals and Cognacs. She's made it her professional expertise to manage an engaging digital presence. So listen up offenders: The key to a solid post is patience. "Nobody is going around worrying that you haven't blown up their Instagram feed in the last hour... check yourself," Wilson preaches. "I used to feel compelled to post just for the sake of posting, but that actually works against you. Save those moments for when you've got something cool to share."
Those of you feeling personally victimized by Regina George's army of brunch pics need to remember that patience goes both ways. People don't change overnight so after the initial conversation with your overzealous friends, remember to give them time to adjust. Gently guide them with Wilson's mantra: "Step away from the forward-facing camera." Instead encourage your friends to post at more opportune times. Studies show 2 a.m. and 5 p.m. are the most successful times for posting.
As our lives become increasingly integrated with screens, it's important to remember that while we may have annoying friends on Instagram, we may at times be the annoying friend on Instagram.  So whether you are finally confronting your annoying internet friends IRL or you're taking a good hard look at your own posts, remember to begin from a place of kindness. We aren't all adorable raccoons or flawless octogenarian insta-lebrities, so some of us need a little push in the right direction.