Customs and Border Protection in Arizona Just Uncovered a Pound of Meth-Filled Burritos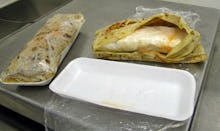 The beauty of a burrito is you can put almost anything in it. Well, almost anything. 
Over the weekend, U.S. customs officers at the Nogales port of entry busted a 23-year-old Arizona native who had hidden over a pound of meth inside two tortillas. According to a press release on the U.S. Customs and Border Protection's website, officers had referred the woman's vehicle for a further inspection where a canine unit sniffed out what officials estimate to be more than $3,000 worth of meth. 
Over the next two days, officers at the same border checkpoint uncovered a total of 68 pounds of cocaine, 37 pounds of meth and 3 pounds of heroin from five other drug smugglers, amounting to about $1.79 million in narcotics. 
While CBP officials certainly take their job seriously, when it comes to the more creative ways people try to push drugs across the border they have a healthy sense of humor — because they've seen it all.
Earlier this month when CBP officers found 1,423 pounds of marijuana hidden in a shipment of coconuts, a representative tweeted photos and wrote, "Smugglers put marijuana in the coconut instead of lime," a riff on a song you'll never get out of your head. 
"Our officers' ability to use all available resources combined with their experience has resulted in numerous discoveries of illegal narcotics," Port Director Efrain Solis Jr. said at the time. "We are keeping drugs off our streets, protecting our communities and our vigilance is continuous."
Read more: Drug Smugglers Tried to Sneak 2,493 Pounds of Weed Into the US in Giant Fake Carrots