These SFW Porn Clips Are Suddenly Too Sexy for YouTube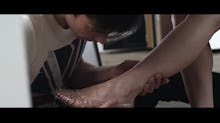 If you're into suckable feet, you just missed your window to watch some SFW porn on YouTube. 
Erotic film director Erika Lust uploaded a video — Do you find my feet suckable — on YouTube. It's the story of a university student who blows off his studies to "indulge in an erotic foot fetish game" with porn actress Amarna Miller. 
The video was posted on May 13, 2016 and stayed online for over a week. The SFW porn video seemingly met YouTube's community guidelines, which state that "sexually explicit content like pornography is not allowed," but it has recently been pulled offline.
The just over five-minute-long YouTube video about a romp with Miller's tootsies is penetration and money shot-free. It does feature some nudity, but no more than say, Zac Efron taking his shirt off at the 2014 MTV Movie Awards. That's still on YouTube. 
If you want some PG-13 foot fetish action, YouTube may be home to your niche desires. Until YouTube decides a fetish is too sexy, that is. 
YouTube's policy on nudity and sexual content does state that "videos containing fetish content will be removed or age-restricted depending on the severity of the act in question."
"Do you find my feet suckable?" reigned on YouTube for over a week and racked up more than 150,000 views before it got the axe.
The video has been removed "for violating YouTube's policy on nudity or sexual content." As mentioned above, it likely violated YouTube's community guideline against fetish content, seeing as the nudity is on par with many other shirtless actors, music videos, etc. free to ogle at on the video site. We have reached out to YouTube for comment.
Once you're off your company computer, there is an uncut, uncensored version of the film on erotic short film site XConfessions. 
May 26, 2016, 10:45 a.m.: The story and headline have been updated to reflect the video's removal from YouTube.