The Story Behind the Viral Photo of Haitian-Born West Point Grad Alix Idrache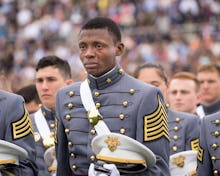 A moving photo of a newly-minted West Point graduate is going viral.
Academy photographer Army Staff Sgt. Vito T. Bryant caught cadet Alix Idrache in an emotional moment during the commencement ceremony, tears running down the new second lieutenant's face as he graduated from the school on Monday. 
"No greater feeling than that of accomplishment!" the military academy wrote in its caption on Instagram and Facebook.
According to the Hatian-born Idrache, graduating from West Point marked the moment he achieved the elusive American dream. The solider explained his mindset at the time the photo was snapped in the comments of the Instagram post, according to CNN. 
Three things came to mind and led to those tears. The first is where I started. I am from Haiti and never did I imagine that such honor would be one day bestowed on me.
West Point has come under fire recently for diversity issues on campus, following online criticism and a formal school investigation into a photo of black female cadets posing with their fists raised earlier this month. In the wake of the conflict, alumna Jozlyn McCaw released a series of photos originally taken two years prior showing minority, LGBT and female cadets holding signs explaining their oft-troubled tenure at the school with the hashtag #ITooAmWestPoint.
"Despite diversity initiatives, blacks are still underrepresented among military officers, and overrepresented among active duty enlisted members, Department of Defense data show," wrote Mic's Aaron Morrison. "West Point, founded in 1802 in New York state, graduated its first African-American cadet in 1877 and welcomed women in 1976."