This Teen Slayed a Prom Dress Made From African Fabric Her Teacher Called 'Tacky'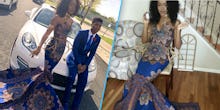 When her white teacher told her that an Ankara-print gown would be "tacky for prom", 18-year old Makalaya Zanders of Cleveland, Ohio, didn't get mad — she just showed up to prom looking bad as hell in the pattern anyway.
Though her Instagram is now private, ABC News quoted a caption on the photosharing app written by the teen, who wrote that she wore the dress "to make a point."
"That African style is beautiful. That I am comfortable with my Melanin and roots. And finally, that there's nothing like Black girl Magic," she wrote.
Zanders told ABC that she had no hard feelings towards the administrator who initially told her that the African pattern, "wasn't really something you wear to prom," and said that she had used the criticism as a way to "empower young girls of color by showing them they're beautiful, too."
"I was told when I was younger that I was too dark, too this, too that," she said. "I didn't grow up with black Barbies besides Brandy. As a young girl, I thought I didn't fit that standard, traditional definition of beautiful."
Photos of the dress, designed by DeAndre Crenshaw at IndelibleDC in Cleveland, have gone viral on social media since Zanders attended her prom on May 13. 
The teen, who hopes to infiltrate the fashion and modeling industries after graduating from high school, told ABC that she's optimistic about the future of African couture in the United States.
"I absolutely am hopeful for the beauty and fashion industry, and I like how it's been getting more diverse," Zanders said. "Some people think it's just a trend, but I think if it gets more people excited and researching more about our culture, that's good enough for me."
Read more: These Are the African Designers You Probably Don't Know About — But Should